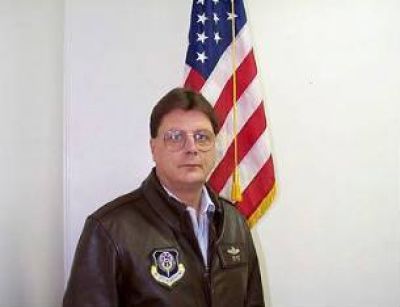 Timothy Michael Welk, MSgt, USAF
February 02, 1963 - March 11, 2007

~Tribute ~
by Edwards Air Force Unit
MASTER SERGEANT TIMOTHY M. WELK It is with deepest sorrow that we announce to you that Master Sergeant Timothy M. Welk died unexpectedly in his home on Wednesday, April 11th in Lancaster, CA. MSgt Welk was the CV-22 Operations Superintendent, CV-22 Flight Engineer, Detachment 1, 18th Flight Test Squadron (Det. 1, 18th FLTS), Air Force Special Operations Command (AFSOC), Edwards AFB, California. He supported the Air Force Operational Test and Evaluation Center (AFOTEC) as a member of the CV-22 Integrated Test Team, a multi-service, multi-command team responsible for the realistic, objective, and impartial testing of the CV-22 Osprey.
MSgt. Welk graduated from Emmons Central High School, Strasburg, North Dakota, in 1981. He enlisted in 1981, and after graduating basic training and technical school, he spent four years as an armament load crew member on F-111D's at the 524th Aircraft Maintenance Unit, Cannon AFB, New Mexico. He was also an armament load crew chief on RF-4C's at the 10th Aircraft Generation Squadron, RAF Alconbury, United Kingdom. As an Aircraft Armament System Specialist, Tim's technical expertise directly contributed to a 99.5% weapons release rate in over 7,600 sorties on F-111D's and RF-4C's. Selected as an "Outstanding Performer" during four Maintenance Standardization Evaluation Team visits and North Atlantic Treaty Organization Tactical/Operational Readiness Inspections.
After retraining as a Helicopter Flight Engineer in 1986, MSgt Welk's flying assignments included UH-1Ns at Detachment 22, 40th Aerospace Rescue and Recovery Squadron, Mountain Home AFB, Idaho, CH-3Es and HH-3Es at the 38th Aerospace Rescue and Recover Squadron, Osan AB, Korea, 31st Aerospace Rescue and Recovery Squadron, Clark AB, Philippines, CH-53A's, TH-53A's and MH-53J's at the 20th Special Operations Squadron, 16th Special Operations Group Standardization and Evaluation, Hurlburt Field, Florida. Real-world encounters include DENY FLIGHT, UP-HOLD DEMOCRACY, RESTORE HOPE, PROVIDE PROMISE, and other covert operations that are still classified.
In 1997, MSgt Welk was hand-selected by HQ AFSOC/DOVR for his vast experience and technical knowledge to become the first USAF V-22 Flight Engineer. He was assigned to Det. 1, 18th FLTS supporting the V-22 Multi-service Operational Test Team thru 1999 at Naval Air Station Patuxant River, MD. He was an integral part of moving Det. 1 18th FLTS to Edwards AFB, CA. to begin dedicated CV-22 testing as part of the CV-22 Integrated Test Team. During his tenure, Sergeant Welk's superior dedication, leadership and boundless talents were critical to the success of the V-22 program, training of future CV-22 aircrew, and creation of Tactics, Techniques and Procedures unique to the tilt-rotor aircraft. He flew 344 sorties logging 690 hours supporting USMC & USAF developmental testing, USMC OPEVAL, and the USAF Operational Utility Evaluation. His contributions culminated with the formation of Air Education and Training Command's first CV-22 training squadron and AFSOC's first CV-22 operational squadron ready to support the Global War on Terrorism.
MSgt. Welk's legacy in Special Operations, culminating in nine years working in the CV-22 Osprey Tiltrotor aircraft program, will have deep, long-lasting effects for many generations to come. His presence will be greatly missed by all who knew him, but his influence will live on in each of us. He is survived by his mother, Eugenia Welk, sister, Linda Smestad, and brothers Duane and Allen Welk. Funeral Services will be held in Strasburg, ND with internment at North Dakota Veterans Cemetary in Mandan, ND on the 23rd of April. Flowers and condolences can be sent to the family at Myers Funeral Home 203 SE 2nd St. Linton, ND 58552.

GUEST BOOK
---
02/23/2013
My life is sadder for knowing you are not in this world. Rest in Peace.
~
Nancy (Jacobs) O'Steen
---
01/13/2012
You have no idea how much I miss you..but I know you are watching over me. I feel your presence...I love you Tim.
~
Linda Smestad
---
06/06/2010
I will always remember you.
~
Linda Smestad
---
12/03/2008
It's been over a year and I still miss you.
~
Linda Smestad
---
12/27/2007
Tim you are dearly missed. Our lives have all been torn apart without you. There have been many tears shead. I miss you.
~
Cindy Welk
---
04/23/2007
I lit a candle because Tim was a brother to my dear friend, Linda.... and he deserves to be remembered.
~
Karen Hughes
---
04/16/2007
I would lite a million candles for him, Tim was my little brother, whom I love with all my heart.
~
LInda Smestad
---
04/16/2007
Tim was a good friend, an honorable man, and our squadron will never be the same without him.
~
Jamie Harris
---
~Tribute~
I met Tim about a year ago shortly after I started working at Edwards. He was quiet....I am quite the opposite and can make anyone talk! Yes, we were smokers and it seems that the smokers always get to know each other quicker than just normal co-workers. I quickly learned that he was a brilliant flight engineer. I was new to the test center and he answered many questions on EW systems and the test center process. Always willing to listen to me vent and great at calming me down. I brought him home with me on Thanksgiving and New Years and this proved he was also brave....My family out here is huge and everyone liked him! My whole family is pouring their hearts out to you Linda and the whole family. You have impressed me so much with your strength. I think we have a lot in common! I am proud and honored to be helping you through this process. I respected Tim so much....and will extend that to you and your family with all that I am. On his balcony today I promised him that I would do my best for you guys. I was sitting there talking to him and a slight breeze blew some wind chimes below as if to calm and soothe me. There are so many things I wish I had done now. I am looking forward to meeting you all. I will be keeping you and the whole family in my prayers!
~
Jamie Harris (Friend/Co-Worker)