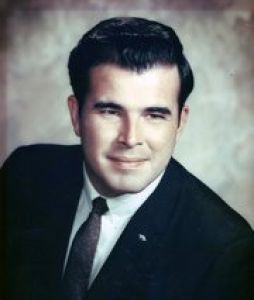 Robert Larry Riney, Major, USAF (Retired)
August 17, 1940 - June 06, 2008

Robert L. Riney, Major (USAF, Ret.)
On June 6, 2008 this much-loved man left Tucson and returned to the arms of his Creator where he now resides in light, peace, and love joining loved ones who have gone ahead.
He was born on August 17, 1940 in Liberal, Kansas, to Robert and Catherine (Symons) Riney and attended school there before moving to Emporia, Kansas, to complete his college education. In 1963 he joined the USAF. Initially he was a B-52 navigator but subsequently attended pilot training earning the highest academic award in his class and then flew C-141's to Asia during the Vietnam War. He transitioned to jet helicopters "Super Jolly Greens" and flew secret rescue and supply missions into Laos and Cambodia during the Nixon presidency.
During this assignment he earned two Distinguished Flying Crosses, three Air Medals, four Meritorious Service medals and an Air Force Commendation medal. On his return he attended Air Traffic Control School and was Commander of Air Traffic Control at D-M AFB. In this capacity he received a personalized Thank You from then president Gerald Ford for his handling of President Ford's visit here. At the time of his retirement in 1983 he was assigned to the D-M Flight Control Center.
After his retirement he became actively engaged in the Pima County Sheriff's Auxiliary Volunteers and won "Volunteer of the Year" award four times. Health problems forced him to give up the work but not his loyalty to this group of dedicated people.
In 1980 Bob also won a University of Texas "Good Husband" award for his unstinting support and encouragement as his wife attended medical school in San Antonio, Texas, during his AF assignments there. He also won her undying love and gratitude for all he did for her and their children during these years.
He is survived by wife Jane, of Tucson; son Rob (Debbie) of Lakewood, Colorado; daughter Laurie (Dewaine) McBride, of Tucson; grandsons Alex, Adam, and Aidan McBride, of Tucson; and sister Sharon (Robert) Keating of Liberal, Kansas. He is also mourned and missed by a large extended family and his friends.
The family wishes to thank Dr's Daley, Gee, Katakkar, Dunn, Maricic, Novalis, Gossler, Fehr, Bentley, and NWH Hospitalists all of whom delivered only the finest of care over the years.
Per his request he was cremated and the ashes will be spread privately at a later date in his beloved White Mountains of Arizona.
A memorial service will be held at Adair Avalon Chapel, 8090 N. Northern on June 27th at 7 P.M. In lieu of flowers please send gifts of remembrance or consolation to the Pima County Sheriff's Auxiliary, 1650 E. Benson Highway, Suite B, Tucson, Arizona 85714.
Robert served with the 21st SOS in Vietnam in 1969 - 1970 using the call sign "Knife 21.