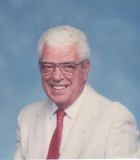 Edward G. Quinlan, Lt. Colonel, USAF (Retired)
February 10, 1930 - May 18, 2011

Lt. Colonel Edward G. Quinlan, USAF, Retired, died on May 18, 2011 at the age of 81 years. Born in Boston, MA, 10 Februay 1930 to Joseph F. and Ethel (Squires) Quinlan, he was reared in Plympton, MA, and graduated from nearby Plymouth High School, Class of 1947. While attending Bridgewater State Teacher's College the Korean War began and he enlisted in the Air Force. He completed training as an Airplane and Engine Mechanic, and worked on RB-36 Bombers, proudly attaining the rank of Sergeant. In June, 1954, he completed the Aviation Cadet Program as a Distinguished Military Graduate, and was awarded aviator's wings and a commission as Lieutenant, USAF. In the course of his 23 year military career he accumulated 5,000 hours flying time, including 4,000 hours in helicopters. He advanced from Private First Class Mechanic to Lieutenant Colonel Chief of Maintenance. As one contemporary said, "He fixed 'em and flew 'em". Service included tours in Korea, where for some time he was the only Air Force pilot authorized to fly into the Demilitarized Zone (DMZ) at Pan Mun Jom where the Korean North-South border was marked with string down the middle of the green-felt, conference table; in Viet Nam, where he was a "Jolly Green" helicopter rescue pilot and staff officer; and in Rangoon, Burma, as an advisor to the American Embassy and the Burmese Air Force. It was there he discovered that Kipling's "Road to Mandalay" was the fast-flowing, muddy, Irriwaddy River.
He married Lt. Doris Rita Kliment, an AF Nurse from Binghamton, NY, in 1956. Together they created four children, an AF career, and "Quinlan's Creative Crafts" a craft, trophy, and frame shop and gallery in Del Rio, TX, where they called "home" after their AF retirement. Both active in the community, he was the first Lay Eucharistic Minister of Sacred Heart Church, which established that program in Del Rio, a Lector for the Mass , and a member of the Parish Council. He reactivated his long-time membership in the Knights of Columbus, joined the Fourth Degree of the Order, and helped establish the local Randy Cote Assembly of which he was the charter Faithful Navigator.
Quinlan was involved in the Del Rio community with the Chamber of Commerce, Lions Club, Rotary Club, Crime Stoppers, Bicentennial Committee, Del Rio Centennial, Val Verde Sesquicentennial Committee, Val Verde Historical Commission, and as a member and Chairman of the Border Credit Union, from which position he designed and supervised the building of their Mission style office on Hwy 90. As part of the Action Del Rio Committee, he and Doris originated the "Arts and Crafts Fiestaval" as part of the Fiesta Amistad celebration. After moving to San Antonio, he volunteered for over ten years with the Methodist Hospital "Bluebird" Auxiliary. He was an active member of the Garden Ridge - Bracken (TX) Lions Club where he became locally famous for cutting fish and not himself for their annual Fish Fry and Auction.
Widowed when Doris succumbed to cancer, Quinlan remarried in 1991 to Marjorie Tuttle Miller of Garden Ridge, TX; their union ended in the new century. He is survived by his children: Kathleen and Kurt Gearhart of Chandler, AZ; Mark and Roseanna Quinlan, of Alexandria, VA.; Maureen Quinlan of Shiloh, IL, and Eileen and Ron Harley of Portland, TX; five grandchildren: Lauren, Kimberly and Michelle Gearhart; Clayton Pfluger; Elizabeth Quinlan and her husband Charles Leasure and his Special Friend, Mary E. Reed of Wareham, MA.
Funeral services will be held with burial at Fort Sam Houston National Cemetery in San Antonio, TX at a date to be announced under the direction of Porter Loring Mortuary North in San Antonio. The family suggests memorials to St. Jude's Children Hospital or the American Cancer Society in lieu of flowers.