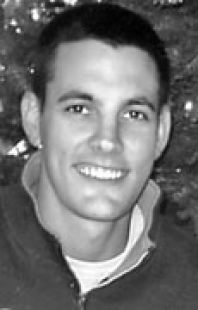 Ehern S. Sherow, SRA, USAFR
May 19, 1980 - May 02, 2007

Ehren Stuart Sherow born May 19, 1980 passed away May 2, 2007 in Phoenix, Arizona. Survived by his loving wife, Saundra; parents, Debra and Dr. Randall Sherow; sister, Brooke; in-laws, Berner and Marylin Loftfield; sisters and brothers-in-law, Stacy and Artie Nuttall, Shawn and Chris Schagel and Stevie Loftfield; grandmother, Gloria Sherow; grandfather, Bill Marx; aunts and uncles, Cheryl and Bounce Cole, Heather and Bill Marx, Michael Gitelman; many loving cousins, nephews, nieces, friends and his cherished dogs, Magic and Duty.
Ehren Sherow was an Air Force Reserve Helicopter Crew Chief assigned to the 943rd Rescue Group at Davis-Monthan AFB, Arizona. Ehren is scheduled to receive his diploma from Embry Riddle Aeronautical University on May 12, 2007 with a degree in Professional Aeronautics. Ehren's dream was to become a helicopter pilot, after graduation he was going to submit his flight packet. We would like to thank all the men and women at Davis-Monthan and in the Air Force throughout the country for the loving help and support they have given to all of us. His commander has set up an account in Ehren's name to collect donations to help with the enormous medical bills that have now accumulated as well as other expenses incurred with this type of tragedy.
Donations will be accepted at any Bank of America under Ehren Sherow Medical Fund, Acct. # 4570-0456-6850. In lieu of flowers the family wishes donations to be made in Ehren's name to the Foundation for Burns and Trauma, P.O. Box 1329 Phoenix, AZ 85001. We would also like to thank the doctors, nurses and staff at the Maricopa County Burn Center for the wonderful care they gave to Ehren and his family.
Services will be held at the L.D.S. Tucson Stake Center, 105 N. Norton on Tuesday, May 8, 2007 at 10:00 a.m., there will be a visitation beginning at 9:00 a.m. Following the service there will be a graveside dedication with military honors by Davis-Monthan Base Honor Guard at the L.D.S., Binghampton Cemetery at 4001 N. Alvernon. Arrangements by BRING'S BROADWAY CHAPEL, 6910 E. Broadway.