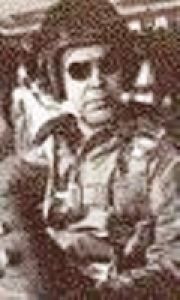 William "Bill" V. Vargas, CMSgt, USAF (Retired)
July 03, 1930 - February 26, 2011

CMSgt. William V. Vargas USAF (Ret.) Passed away on Saturday, February 26, 2011. Bill, as he was called by his friends and family, was born in Detroit, MI on July 3, 1930 to Victor and Olga Vargas.
He graduated from Fishburne Military School in 1949. Bill enlisted in the Army in 1950 and served with the Rakkasans during the Korean War. After four years with the Army, Bill joined the Air Force and became a Pararescue Jumper (PJ). Shortly after joining the Air Force, he met Pierrette, the woman of his dreams; they were married on April 23, 1955. In 1956, they had their first child, Cynthia. While stationed overseas in Japan and the Philippines, the Vargases had two sons, Bill in 1957 and Stephen in 1959.
While stationed in Hawaii in 1961, Bill, along with TSgt Joe Vigare and SSGT Ray McClure, recovered the Discoverer 25. The recovery was the first successful water recovery of a US satellite. This recovery became the standard for future space flight recovery including the Apollo program.
In 1964, while stationed in the Philippines, the family welcomed their fourth child, Victor.
Bill served with distinction in multiple tours in the Vietnam War. In 1978, after attaining the rank of Chief Master Sergeant, Bill became the first NCO to be appointed Commandant at the Pararescue School at Kirtland Air Force Base in Albuquerque, NM. In 1980, after an illustrious 30-year career, Bill retired from the military and was awarded the Legion of Merit. He was than appointed the head of Search and Rescue for the State of New Mexico and later became a consultant for various states and municipalities in emergency preparedness.
After the passing of his beloved wife of 50 years, Bill spent his final days doting on his numerous grandchildren and great grandchildren. Chief Vargas is survived by his daughter, Cynthia, his sons, William and wife, Debra, Stephen and wife, Theresa, and Victor; grandchildren, William, Brittany, Alexandra, Michael, Maria, David, Jordan and Brandy; and several great-grandchildren.
The family would especially like to thank Andre Cotugno for his devoted friendship during their time of need. Friends may visit French, Lomas Location, Wednesday, March 2, 2011, 6 p.m. to 8 p.m. A Memorial service will be held Thursday, March 3, 2011, 11 a.m., at French, Lomas Chapel. Interment will take place at Santa Fe National Cemetery at 2 p.m.
Please visit our online guestbook for William at RememberTheirStory.com FRENCH 10500 Lomas Blvd. NE (505)275-3500