Martin Andrew Stephens
August 13, 1979 - July 09, 2015

Martin Andrew Stephens RIP 2015, Jul 09
1978-2015
Martin Andrew Stephens, 36, passed away on Thursday, July 9, 2015.
Martin, an avid Auburn fan, was born on August 13, 1978 in Pensacola, Florida. He was a member of the Woodham High School baseball team and graduated in 1996. He was enrolled at Pensacola State College and the University of West Florida as a full-time student. After graduating from high school, he enlisted in the United States Air Force where he faithfully served his country for 12 years. During that time, he deployed overseas nine times which included, Djibouti, Africa, Afghanistan, and Iraq. He was stationed at Hurlburt Air Force Base with the Special Operations Unit. He was placed on temporary medical retirement as a TSgt because of his next battle, bone cancer. Martin was a 4 year cancer survivor.
In April 2014 his family faced yet another battle. Their home was destroyed by the floods and had to be rescued by boat. Despite all the battles he faced, he remained a humble, loving, father, son and friend to all. His greatest loves were his family, Jenny, who was his high school sweetheart and wife, and their two sons, Ethan and Henry. Martin was the type of man who would help others before himself. His kind and gentle spirit will be missed forever.
He is survived by his wife, Jenny; their two sons, Ethan and Henry; his loving mother, Pamela Martin (Keith) Waters all of Pensacola, FL; his father, Michael (Miriam) Stephens of Kinston, AL, and his loving sister, Fielding (Collin) Ryder also of Pensacola, FL. Martin also will be lovingly remembered by his aunts, uncles, cousins, step-brothers and step-sisters, nieces, and nephews. He also leaves behind his best friends, Zach Fleming, Travis Shaw, and Allen Miller.
Even though he was faced with many battles throughout his life, he remained steadfast in his Christian faith. He has no more battles and he is finally at peace.
Funeral services will be held at 12:00 p.m. on Wednesday, July 15, 2015 at Faith Chapel Funeral Home North with Pastor Darren McClellan, officiating. Burial will follow at 2:00 p.m. at Barrancas National Cemetery with military honors.
The family will receive friends on Tuesday, July 14, 2015 from 5:00 p.m.-7:00 p.m. at the funeral home.
In lieu of flowers, donations may be made to: The Wounded Warrior Project.
To send flowers or a remembrance gift to the family of Martin Andrew Stephens please visit our Tribute Store.

GUEST BOOK
---
July 15 at 1:34 PM CST
My thoughts and prayers are with your loving family. Suzette Thomason
~
Suzette Thomason
---
July 14 at 11:11 PM CST
Pam Waters I always shared in the joy with you when you came in the library and gave us positive updates on Martin's health. Now that you and your family and friends are hurting beyond belief I really do not know what to say. May God wrap his loving arms around your family and friends and Martin's friends and may you all find comfort in Him and in each other.
~
Shaunda Resmondo
---
July 13 at 6:41 PM CST
Pam, You and your family are in our prayers. Barbara & Rob Capps
~
Barbara Capps
---
July 11 at 4:07 PM CST
R.I.P. Martin, I wish I could have known you as an adult but I will always remember us as kids playing in Brookhollow neighborhood. I know you are in a better place smiling down at everybody that loves you. See you again one day my childhood friend...
~
Dennis Makris
---
July 11 at 1:34 PM CST
Martin, you are so loved and will always be remembered with a smile and loving hearts as to what a wonderful brother, son, father and all around kind soul you were to everyone you met. In loving memory... Brosnahams and Hayes Families
~
Amy Hayes
---
July 11 at 11:23 AM CST
We will miss you brother. You made me enjoy coming into work on swing shift which is quite a feat. Your country boy laugh always brightened a room. Love you bro. RIP!
~
Brand Hoffa
---
July 11 at 9:48 AM CST
RIP Martin You will be missed. Prayers to your family Terry Butterfield MSgt USAF Retired.
~
Terry Butterfield
---
July 11 at 8:57 AM CST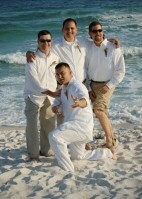 Love these guys... As Allen mentioned in a Facebook post last night, there will always be four. RIP Marty Stephens, you have been a good friend in the short time I have had the honor of knowing you.
~
Aimee Miller
---