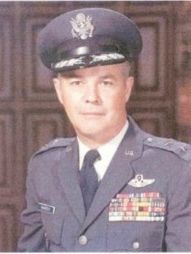 Ralph S. Saunders, Sr., Major General, USAF (Retired)
June 24, 1922 - December 06, 2002

Retired Air Force Major General Ralph Scott Saunders, Sr. died of upper esophageal cancer December 6 at age 80 in San Antonio, TX. He was born in Roanoke, Virginia on June 24, 1922 to Walter Lawrence Saunders of Goodview, VA and Minnie Hammersley Tibbs Saunders of Concord Depot, VA.
After a whirlwind two-month courtship, he married Dorris Jean Peeler, a Texas Tech journalism junior from Levelland, TX at Aloe Field, Victoria, TX on June 9, 1945. He is survived by his wife Dorris, sons retired Air Force Colonel Scott Saunders and wife Patty of Melbourne, FL, retired Army Colonel Larry Saunders and wife Sally of Lakewood, WA, and daughter Jan Saunders and husband Ramon Palacios of Buenos Aires, Argentina, seven grandchildren Jennifer, Megan, Scott, Matt, Cris, Tim and Fran and one great grandchild Finn. He is survived by sisters Faith and husband Bill Scott of Charleston, SC, and Hope and husband Bill Kerr of Roanoke, VA, and brothers Nelson and wife Betty of Roanoke, VA, Ray and wife Naida of Tuscaloosa, AL, Andrew of Fairfax, VA, and Hiram and wife Nancy of Memphis, TN.
General Saunders joined the Virginia National Guard immediately upon graduating from Jefferson High School in Roanoke in 1939. He served his country faithfully for the next 40 years, transitioning to the Army Air Corps in 1943, then the Air Force in 1948. In that time he accumulated over 11, 000 flying hours in 40 types of aircraft. In Word War II at the age of 22, he flew 35 combat missions in B-24Â's with 491st Bombardment Group at Metfield, England. During the Korean War, he flew 70 combat C-119 missions. In Southeast Asia, he flew 278 combat missions in C-123 and C-130Â's. In 1958, while assigned to the 322nd Air Division in Evreux, France, General Saunders flew C-130 airlift operations in the Lebanon Crisis. During that same period he also volunteered for a dangerous mission ordered by President Eisenhower to defy the Soviet control of the Berlin Air Corridor above 10, 000 feet by flying at 24, 000 feet. Proving his frequent luck in combat, later radio decryptions revealed the five Soviet MIG pilots challenging him, though repeatedly signaling him to land and surrender, had ultimately refused their orders to shoot down his plane. Between combat assignments, General Saunders was a squadron commander in the 314th Troop Carrier Wing at Sewart AFB, TN, and helped to develop standardization and evaluation procedures for the entire Air Force while assigned to the Pentagon. During 1962-1966 he served as operations director within the 315th Air Division, and commanded the 817th Troop Carrier Squadron, and the 6002nd Standardization and Evaluation Group in Okinawa. Senior executive positions included deputy commander of the 436th Military Airlift Wing at Dover AFB, DE, assistant deputy chief of staff for operations of Military Airlift Command at Scott AFB, IL, commander of 9th Weather Reconnaissance Wing at McClellan AFB, CA, commander of 60th Military Airlift Wing and then vice commander of 22nd Air Force at Travis AFB, CA. The capstone of his career was the opportunity in 1974 to command the Aerospace Rescue and Recovery Service at Scott AFB, IL. He was particularly proud to be the first rescue commander to be personally credited with a combat pilot save. He retired from that assignment in 1979 to San Antonio, Texas.
He was awarded numerous decorations for his extraordinary service, including the Defense Distinguished Service Medal, two Legions of Merit, the Distinguished Flying Cross, two Bronze Star Medals, 12 Air Medals, two Air Force Commendation Medals, and two Army Commendation Medals. He was also presented the rare "Order of the Sword" Award and the prestigious "Chief's" Award by the non-commissioned officers of the Military Airlift Command, and the "Press On" Award by the National Association for Search and Rescue. General Saunders completed over three years of study at the University of Maryland and was a 1967 graduate of the National War College.
A memorial service will be held Tuesday, January 7, 9:30 a.m. at Randolph AFB Chapel #1, Bldg. 102, Harmon Drive, in San Antonio. The service will be followed by an 11:00 a.m. interment at Fort Sam Houston National Cemetery, 1520 Harry Wurzbach Highway, and a 12:00 p.m. reception at One Park Towers Park Lane, San Antonio, Texas.
In lieu of flowers, memorial gifts may be made to hospice support at Vista Care Foundation, 5815 Callaghan Road, and Suite 102, San Antonio, Texas 78228. The family invites you to leave a message or memory at www.porterloring.com by selecting Visitation and Services. Select Sign Guestbook at the bottom of the individual Memorial. Arrangements with Porter Loring


~Guestbook~
---
10/19/2010
I worked with Gen Saunders while in the Pentagon. A dedicated officer for whom I had the greatest respect. I have fond memories of our association.
~
Major Manzer A Thompson
---
01/06/2003
General Saunders family can be very proud of his service to his country.
~
Lt Col Ed Hamilton Retired
---
01/05/2003
Gen Saunders and Dorris were our introduction to the world of Air Rescue. They taught us volumes about mission and people and the care for both. Our prayers are with the family as we all celebrate a great life.
~
Col Ret Ken and Carolyn Pribyla
---
01/03/2003
Our thoughts and prayers are with the Saunders family. I served in ARRS while General Saunders was the Commander.
~
Karl Bakke, Major, USAF Ret
---
01/03/2003
We were so sorry to hear about Gen. Saunders. He was a connection to my father and I loved the stories he told me. My wife, Kim and I plan to be in San Antonio for the service. My mom would love to come but has traveled so much over the hollidays she needs to rest. She talks often of the Saunders family and values your friendship.
~
Charles De Lacey
---
01/03/2003
Ralph was a valued and loyal friend. He will be sorely missed by both of us. The military memories that he and I shared during our Air Force careers will unquestionably fade; however, the good times that the four of us have shared will continue to live and be cherished. Doug and LaVerne.
~
Douglas and LaVerne Wood
---
01/01/2003
I am saddened at the loss of Uncle Ralph, but I am happy to know his valiant battle with the limitations of this earthly body have ended. Ralph meant so much to me and my family. Over the years he provided great advice on many subjects such as finances, careers and sports. He was a great golf partner, film editor, joke teller and surrogate father to me. Over the years, his kindness and open-door policy made trips to see him with Toni and the kids a true joy. We all will remember Ralph as a great man, I will also remember him as a great friend.I thank God for the opportunity to know him.
~
Lane Peeler
---
12/30/2002
I share your loss. Love, Eileen Also known as ASA
~
Eileen Conner
---
12/28/2002
Ralph will be sorely missed by his military family.He was a great officer and gentleman. My best to Doris and the Saunders' family. Don Curtis
~
Don Curtis
---
12/27/2002
We are so sorry to hear about General Saunders death. We had just mailed a Christmas card to Jan in Argentina and received the notice the following day. He was a special person...kind to me as an extra kid hanging around the house a lot, funny, he teased Jan and I endlessly expecially about drunken chicken and he had wonderful taste in choosing a wife...who still inspires creativity in me whenever I think about a new sewing project. We send our loving thoughts to all of you at this time. My dad died three years ago in December, so I know what that loss can feel like. A very special hug to Jan...apologies for being a horrible correspondent, but not lacking in love for her. Most sincerely, Sally Perkins, Mark, Gabe and Rebecca, too.
~
Sally Perkins
---
12/23/2002
Dear Dorris Jean and Ralph, We love you both very much. We have so many wonderful memories of you two and your family. My mother, Jamie and Steve, and Suzann all send their love. Come see us when you can. Powell and Mary.
~
Powell and Mary Hinson
---
12/16/2002
I am sorry that our prayers were not answered this time. I believe that God has better plans for his future than we. We will give him a lot of our thoughts in the future, miss him very much and look forward to seeing him in the not too distant future.With all our best wishes and love, Naida and Ray.
~
Naida and Ray Saunders
---
12/14/2002
General Saunders will be sorely missed.Condolences to his family.
~
James Paul Disharoon,Jr.
---