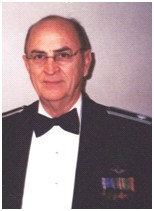 Harvie Lee Stringer, Lt. Colonel, USAF (Retired)
January 10, 1935 - January 07, 2010

STRINGER, HARVIE LEE, Lt. Col. USAF, Ret., 74, of Troy, Michigan passed away on Thursday, January 7, 2010.
Harvie was born in a log cabin in Overton County, TN on January 10, 1935 to the late Alexander and Hennie Stringer. He grew up in Cookeville, TN with seven brothers and sisters. Harvie developed a great work ethic at a young age. By the age of 10, he was mowing grass at the local cemetery, at 13 he worked at a local dime store and would later work his way through school. He attended Tennessee Tech. and would later graduate with a bachelor's degree from Mississippi Southern College.
Harvie always wanted to fly. He pursued that dream by joining the U.S. Air Force. He became a helicopter pilot and served his country for 20 years. He was with the Jolly Green Giants, flying para-rescue missions during Vietnam, successfully completing numerous rescues in difficult situations. After Vietnam, he was an instructor for the United States Coast Guard helicopter Search and Rescue. Harvie was awarded the Silver Star, Silver Star with Oak Leaf Cluster, Distinguished Flying Cross, Air Medal, Air Medal with First through Seventh Oak Leaf Cluster, Air Force Commendation Medal and Coast Guard Commendation Medal.
Harvie has been a member of numerous organizations, including the Elks, VFW, American Legion, Moose Lodge, and USAA. Harvie also founded the Rochester Elks Dance Club.
Devoted husband of 21 years to Joan Hisle Beck Stringer and the late Audrey Peters. Dear stepfather of Michael Peters (Janine), Todd Beck (Cheryl), Renee Connon (Tom) and Scott Beck. Step grandfather of Michael, Jeffrey, and David Peters; and Ross, Amanda, Ryan, Molly and Jena Beck. Loving brother of A. J., Dorothy Vick (the late Robert), Harold (Maxine), Harlon (Frances), Linda Bryant (Dale), and the late Nathaline Frazier and Wanda Redmon. Also survived by numerous nieces and nephews.
Funeral Tuesday, January 12, 2009 - 11 a.m. at A. J. Desmond & Sons Funeral Home, 2600 Crooks Road, Troy, Michigan (between Maple and Big Beaver), with The Reverend Thomas A. Barbret officiating.
Family will receive friends Sunday, January 10, 2009, and Monday, January 11, 2009, from 2-8 p.m. at the Funeral Home. Interment Great Lakes National Cemetery, Holly, Michigan.
Memorial tributes may be made to:
American Diabetes Association, SE Michigan Chapter, 30200 Telegraph Rd., Ste. 105, Bingham Farms, MI 48025 -or- American Heart Association, 3816 Paysphere Circle, Chicago, IL 60674

Guestbook for Lt. Col. Harvie Lee Stringer, USAF, Ret.
---
I was stationed with Harvie at Danang AB, RVN in the 37thARRS (Jolly Green) combat rescue organization. He was a great pilot and gentleman. My condolences to the family on your loss.
~
Ray Dunn, Feb 26, 2010, NY
---
Condolances on the the passing of Harvie. Served with him at DaNang Viet Nam. He was an outstanding Rescue Crew Commander and friend.
~
Rich Blackwell, Feb 26, 2010, Prescott, AZ
---
I am writing on behalf of my father, Ben S. Wiggins from Columbia, SC, who flew recon missions with Col. Stringer in Korea. My mother gave me his name tonight and I was very sorry to learn of his passing. Helicopter pilots during this era were heroes and soldiers......a great combination in any year. Please accept late condolences from the son of a man who was honored to fly in the same cockpit with Col. Stringer.
~
Mke Wiggins, Feb 7, 2010, SC
---
I was sorry to read of Harvie's death. I remember him from the 1940s and 1950s, in elementary school and then high school, where we were members of the class of 1953. He was a good friend.
~
Allison Ensor, Jan 12, 2010, Knoxville, TN
---
To the Stringer Family.
I am so sorry to hear of Harvie's passing. I shall remember him in my prayers.
~
Cherie Diehl Dupont, Jan 12, 2010, Troy, MI
---
Sorry to hear of your loss. Our thoughts and prayers are with you. I am a distant cousin. I think I only met Harvie once at Aunt Hennie's house. Floyd Thompson was my grandfather. Joan Raines (entry below) and I are Mayzell Thompson Raines' daughters.
~
Kelley Raines McNeal, Jan 12, 2010, Cookeville, TN
---
I'm sorry to hear of Harvie's passing, I am a distant cousin (Floyd Thompson's Granddaughter) but do remember meeting Harvie many years ago. Always heard great things about him. My prayers to each of you.
~
Joan Raines, Jan 12, 2010, Cookeville, TN
---
Always enjoyed his stories at break and lunch times.
~
Ron & Nyla Monville, Jan 11, 2010, Otisville, MI
---
To: Harvie's Family, I never had the pleasure of meeting any of you but did have the opportunity to work with Harvie as has been said his work ethic was the best and he was a good person to work with. His humor sometimes dry was always an asset. My sympathies and prayers are with you during this time of loss. Please find comfort in the good times Sincerely,
~
Debbi Badgley, Jan 11, 2010, Rose City, MI
---
Joan, we were sorry to read of Harvie's passing. How wonderful that you had well over 20 years to share together. I will always have a vision of you and Harvie dancing the night away. Our condolences to you and all who loved Harvie.
~
Marilyn and Tom Sokolowski, Jan 10, 2010, Clarkston, MI