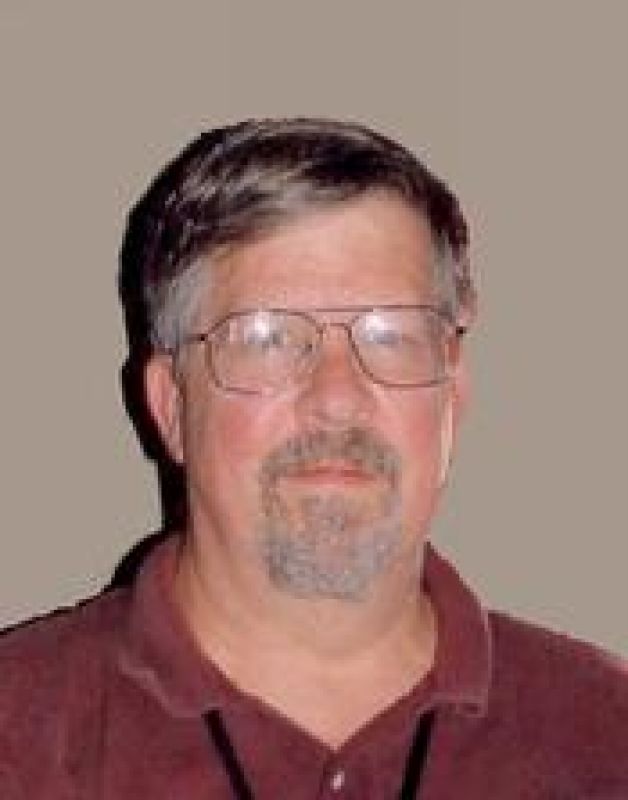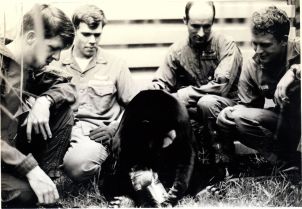 Stu (on the left) with "Buffy" at NKP in the 1974 time frame
Stuart B. Fotte
July 06, 1945 - June 28, 2011

Stuart B. Foote
(July 6, 1945 - June 18, 2011)
Stuart B. Foote, 65, beloved husband of Myra M. (nee Stock), dear father of Stuart B. Foote, Jr. (Lisa) and Carrie Foote-Johnson (Michael), brother of Spencer Foote, Carol Brown and Margaret Foote, grandfather of Bryce and Owen Johnson and Caroline Foote. Passed away Saturday, June 18, 2011.
Memorial Service 6:00pm Thursday, June 23 at Mueller Parker Funeral Home, 6791 Tylersville Road, Mason, Ohio 45040 where friends will be received one hour prior to the service.
Memorials may be made to Nature Conservancy at www.nature.org. For more information or to send a condolence, please visit www.muellerparker.com.

GUEST BOOK
---
Tom Green
Navarre, FL
June 29, 2011
Myra and family. Stu and I went back a long time, to when we both served at Eglin AFB with the 55ARRS. We shared many TDYs. Stu was always a great guy to fly and work with. It seemed he was also never without a ready smile, even when we discussed our differences. On one trip to Las Vegas we flew very near Tuba City, AZ. He wondered out loud what that city was famous for. My answer was quick... Tuba fours. We both laughed for the rest of that leg. I'll miss Stu, his quiet nature and fun loving outlook on life. My families' thoughts and prayers are with all of you. Tom Green.
---
Beth Sherwood
Huber Heights, OH
Jun 28, 2011
May God bless you and your family in this time of sorrow.
---
Chuck and Diane Helman
Tipp City, OH
June 22, 2011
May God bless you and your family in this time of sorrow.
---
Theresa Kelley
June 22, 2011
Myra, you are in my families thoughts and prayers. We are here for you if you need anything. Do not hesitate to ask.
---
Babs Johnson
New Orleans, LA
June 21, 2011
Dear Myra, Brian and Carrie,
We join with you in mourning the loss of this extraordinary man. We send our love and prayers to you all and the wonderful granchildren Stuart spoke of so frequently in our family emails.
With love and deepest sympathy,
Babs
---
Chris & Laura Brown
Floyds Knobs, IN
June 21, 2011
So sorry, Myra, Brian and Carrie and all Footes. Stuart will be missed. Our prayers are with you during this difficult time.
---
Mary Holmes
Batavia ,IL
June 21, 2011
Myra & family. Received word of Stu's passing while on my trip to AK. Got home late 21st...sorry I will not be able to attend. Stu & you have been in my prayers prior to my leaving, & I will continue to hold you in my prayers. So sorry for you loss. Cousin Mary
---
Coleen Boggs
Dayton OH
June 21, 2011
I worked with Stu at the audit agency and became friends over the years. I loved his sense of humor and talking to him about his family, his vacations, and just about everyday office life. He'll be missed and my prayers go out to Stu's family.
---
Ken
Dayton
June 21, 2011
I have known and worked with Stu since 2005. Stu was my mentor helping me transition from active duty military to civil service ... taking me by the hand and helping me in-process and settled into a new job. Afterwhich, we became cubemates, assisted each other on audits and good friends. Stu was a true American Patriot, serving over 20-years in the military, many of which were in Special Operations. My sympathies are with the Foote family during this very difficult family.
---
Steve Belew
Dayton Ohio
June 21, 2011
I miss Stuart too. He worked across the aisle from me. We enjoyed many discussions of wine, all things green, and of course our divergent political views. Through his stories and photos I shared in your home remodeling, solar panel adventure, and even the fairly new worm farm. During these discussions it was clear how much he loves his family. He always wanted to leave the earth better than he found it; and he did. I'm so sorry for your loss.
---
Karla Watkins
June 20, 2011
Myra, Just want you to know that you are in my thoughts and prayers. Praying for God to give you and your family peace thru this time. Karla Watkins
---
Debbie Stone
Pelham, AL
June 20, 2011
Bryan, Lisa and Family, You will be in my thoughts and prayers during this difficult time. Please let me know if I can do anything. Or if you need anyting here at home let me know. Debbie
---
Jimmy
Hanson, MA
June 20, 2011
Though saddened, my head is held high, proud to be your nephew, knowing you'd want us to be strong while we honor your life and family.
A pint, or two, in your name.
I'm going to miss you, Uncle Stu!
---
Daryl LaFountain
WPAFB, OH
June 20, 2011 8:38 AM
Stuart was a good man and a great friend who always knew how to bring a smile to the room. We worked together for over 6 years, and he alwyas had something hilarious to say to bring me up when i was ffeling down. I can honestly say that I feel like I am a better person just by knowing Stu. I will miss him dearly.
---
Peter Campisi
West Chester, Ohio
June 20, 2011
May you rest in peace my friend! You will be missed...
---