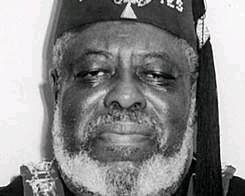 Andrew (Andy) Benton Sr., USAF (Retired)

ANDREW BENTON Sr.
Andrew Benton Sr., husband of Alice Virginia Wooten Benton, died Monday, Dec. 1, 2008, at Tuomey Regional Medical Center.
Born in Colquit, Ga., he was a son of the late Jacob Cephaus Benton and Callie Mae Moten-Benton. He graduated valedictorian from Hutto High School in Bainbrdge, Ga., and enlisted in the U.S. Air Force, where he provided his country with 27 years of dedicated service. His travels in the USAF covered Germany, Korea, Panama, Philippines, Thailand and Vietnam. His military responsibilities included: aircraft mechanic, academic instructor and maintenance superintendent. After retiring as a senior master sergeant, he made Wedgefield his home. He founded a heating, air-conditioning and refrigeration business and continued at the Georgetown Career Center teaching climate control and computer technology and retired once again after 12 years. He was a faithful member of Hopewell Baptist Church, where he served in many capacities including deacon. He was also a member of Blue Lodge, Catchall Lodge No. 125, a 32nd degree Mason, a Shriner, a 33rd degree Mason and a Royal Arch.
In addition to his parents, he was preceded in death by a son, James E. Wooton; and three brothers, Aaron Benton, Elijah Benton and Jacob Benton.
Surviving are his wife, Alice V. Benton of the home; two daughters, Arleen D. Benton of Wedgefield and Audrey G. Samuel of Columbia; a son, Andrew (Margaret) Benton Jr. of Charlotte; nine grandchildren; nine great-grandchildren; four sisters, Esther Davis and Ruth Stuckey, both of Cincinnati, Ohio, and Mary Benton and Barbara Benton, both of Buffalo, N.Y.; a brother, Lewis (Carol) Benton of Buffalo; a daughter-in-law, Diana Jackson Wooten; other relatives and friends.
A memorial service will be held honoring his life and legacy at 11 a.m. Friday at the Hopewell Baptist Church, 3285 Peach Orchard Road, Dalzell, with the pastor, the Rev. Richard Addison, officiating.
The family will receive friends at the Benton residence, 12 Melrose Drive, Wedgefield.
Online memorials may be sent to palmermemorialchapels@sc.rr.com.
Palmer Memorial Chapel of Sumter is in charge of this memorial service.