Robert (Bob) Donald Furman
December 04, 1932 - August 13, 2010

Robert Donald Furman, 77, of Gillette, Wyoming passed away Friday, Aug. 13, 2010, at Wyoming Medical Center in Casper, Wyoming after a long illness.
Bob was born in Waymouth, Massachusetts, to Clarence Judson Furman and Helen (Flynn) Furman on Dec. 4, 1932.
Bob attended school in Canton, New York, and later Pennsylvania Military College in Chester, Pennsylvania.
Bob met his wife of 49 years, Annette, in Great Falls, Montana.
He was an Air Force pilot and she was an Air Force nurse. His Air Force career lead him to places like Bell Helicopter International in Isfaham, Iran, Jolly Green Giant Long Range Rescue Army C staff in Leavenworth, Kansas. Bob's Air Force career included the Vietnam era. He was a Jolly Green Giant long-range rescue pilot. He attended the U.S. Army Command & Staff School in Levenworth, Kansas. He was an instructor helicopter pilot for Bell Helicopter International in Isfaham, Iran.
After his retirement in the Air Force, they moved to Wyoming. He worked for Peabody Coal Company in Gillette, Wyoming until 1998.
Bob was a humble man, a good husband, father and friend. He was a leader of men, lover of nature and a man of unshakable humility and truth. As a soldier, he did not hesitate to seek duty. Bob served with distinction during his Air Force career. He dedicated his life to knowledge.
Bob was preceded in death by his parents and his brother, Art.
He is survived by his wife, Annette; sons, Duane and Craig; brothers, Jim (Tami), Paul (Pat); sister, Frannie (Dave); and stepmother, Francis, along with his nieces and nephews.
Service for Bob will be at 11 a.m. Friday, August 20, 2010, at Camp Story, 11 Presbyterian Road in Story, Wyoming, with the Reverand. Donovan Boyght officiating.
A reception will follow at the Camp Story church.
Burial will be at Arlington National Cemetery in Virginia.
Memorials may be made to the Jolly Green Giant Education Fund 916 Aloma Fay Lane, Fort Walton Beach, Florida 32547.

GUEST BOOK
---
Helen Ridenour wrote on Aug 18, 2010 1:39 PM:
"Our thoughts and prayers are with all of you. We always enjoyed Bob's company and talking antiques. He was a great man and will be missed by all who knew him. "
---
August 17, 2010, at 5:32 PM:
Bob Furman was a real horse, utterly modest and unassuming, and one of the best we had. In my not-particularly-modest opinion, he just may have had the highest tolerance for danger of any of the original Jolly's... and one of the best abilities to balance the risk against the gain.
Somewhere around April of '66 he and his crew pulled an F-105 jock off the back side of the first ridge west of the coastal strip of North Vietnam. Bob went in three or four times and was driven off by intense small arms fire in the survivor's immediate vicinity each time. He and the Sandies regrouped and tried again. He couldn't go in high because he was taking flak from the coastal strip, so he had to go in low and be exposed to the small arms. Finally--I remember it as the fourth attempt--the Sandies figured out where the small arms fire was coming from and hit it hard. It was a fuel dump. Secondary's, smoke, and no more small arms fire.
Bob and his crew went in and made the pickup, but by then the North Vietnamese gunners had figured out where the survivor was and were lobbing 37mm and/or 57mm shells over the ridgeline, bursting above Bob's rotor head.
I asked Bob "How high above the rotor head?" He replied, totally dead pan, "Oh, about twenty feet."
If Bob had taken a Jolly Green into the gates of Hell and pulled out a defecting imp, his after action report would have read like a trip to the Seven Eleven for a six pack!
What a man! He'll be missed.
Joe Guilmartin
---
May 10, 1966
Capt. Robert D. Furman, pilot of an HH-3, performed the deepest successful rescue into North Vietnam, to date, when he rescued a downed F-105 pilot, Capt. Martin H. Mahot, 80 miles northwest of Hanoi. Capt. Mahot's F-105D, 61-0135 from the 333rd TFS, 355th TFW at Takhli, Thailand was hit at 8,000 feet as he was pulling up from and attack on an arsenal at Yen Bai, North Vietnam on a Rolling Thunder strike. Capt. Mahot succeeded in flying 15 miles west of the target before ejecting over hills. After two hours on the ground he was extremely lucky to be rescued by an HH-3E piloted by Capt. Furman and manned by his crew in what may have been the deepest penetration by a helicopter into North Vietnam up to that date.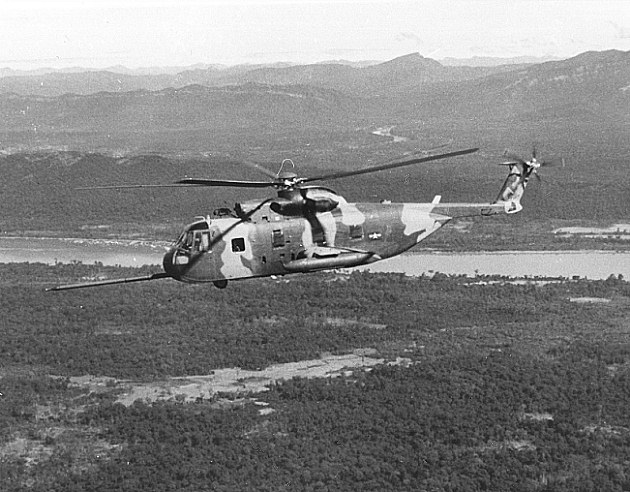 (HH-3E Jolly Green Giant)