Donald R. Backlund
Major, U.S. Air Force
Donald Backlund was born on November 20, 1949, in Kenosha, Wisconsin. He entered the U.S. Air Force Academy in 1967 and graduated and was commissioned a 2nd Lt. on June 9, 1971. Backlund then received an Air Force Institute of Technology assignment to Indiana University for graduate studies. He then attended Undergraduate Helicopter Training and was awarded his pilot wings in May 1973. Lt. Backlund was assigned to the 40th Aerospace Rescue and Recovery Squadron at Nakhon Phanom Royal Thai AFB, Thailand, where he flew HH-53C Jolly Green Giant helicopter from May 1973 to June 1975. During this time, Capt Backlund participated in the SS Mayaguez incident, the evacuation of American personnel in Cambodia, and the evacuation of American personnel in South Vietnam, all in May 1975. He then served as an instructor pilot and flight examiner with the 1551st Flying Training Squadron at Hill AFB, Utah, and Kirtland AFB, New Mexico, from June 1975 until he was killed in a flying accident, while flying an A-10 aircraft, on August 29, 1979. Maj. Backlund was buried at the Air Force Academy Cemetery in Colorado Springs, Colorado.

Decorations
Awards and Citations
---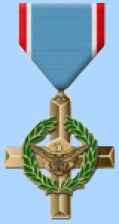 Air Force Cross
Awarded for actions during the Vietnam War
CITATION TO ACCOMPANY THE AWARD OF
THE
AIR FORCE CROSS
The President of the United States of America, authorized by Section 8742, Title 10, United States Code, awards the Air Force Cross to First Lieutenant Donald R. Backlund for extraordinary heroism in military operations against an opposing armed force as a Helicopter Aircraft Commander on 15 May 1975. On that date, while engaged in the recovery of the SS Mayaguez and crew, Lieutenant Backlund, exhibiting superb airmanship, placed a contingent of United States Marines aboard the destroyer escort, USS Holt. He then successfully landed several United States Marines on Koh Tang Island despite intense ground fire. After escorting his wingman to the USS Coral Sea, Lieutenant Backlund then returned to Koh Tang Island and successfully recovered a group of United States Marines and airmen although encountering heavy, constant ground fire. Through his extraordinary heroism, superb airmanship, and aggressiveness in the face of an opposing armed force, Lieutenant Backlund reflected the highest credit upon himself and the United States Air Force.
---
~REMEMBERANCE~
http://jabara.usafalibrary.com/files/6507_FilePath.PDF
Kirtland unit will honor Backlund this morning.
A former Kirtland helicopter pilot will be honored this morning at 10:30, when west building 1019 will be named for the late Maj. Donald R. Bucklund.
Major Backlund was an H-53 instructor and flight examiner for the 1550th Aircrew Training and Test Wing from 1975 to 1978.
He was killed on Aug. 29 last year in the crash of his A-10 Thunderbolt II near Luke AFB, AZ. It would have been his last flight before an overseas assignment.
Building 1019 is the home of the major's former unit, the 1551st Flying Training Squadron.
Kirtlanders are invited to the dedication ceremony, which will include the late pilot's parents, Mr. and Mrs. Donald F. Backlund, and Maj. Gen. Cornellius Nugteren, commander of the Aerospace Rescue and Recovery Service. Among the distinguished guest will be retired Brig. Gen. Richard Kight, first command of the Air Rescue Service, the predecessor of ARRS.
Major Backlund will also be honored with the second oak leaf cluster to the Air Medal for a 1977 rescue mission that resulted in four saves. The mission near Aspen, Colo., involved the crash of a light aircraft.
The pilot is probably best remembered for his heroism during the 1975 Mayaguez incident off the Cambodian coast. With his helicopter under heavy fire on Koh Tang Island, Major Backlund maintained his position until all the surviving soldiers could dash aboard and be flown to safety.
For his heroics, Major Backlund received the Air Force Cross, the second highest Air Force decoration.
The Major held many other honors. He was the 1975 Military Airlift Command Junior Officer of the Year. A distinguished graduate of the Air Force Academy, he was the recipient of the Jabara Award for Airmanship.
He graduated at the top of the pilot training class twice: In 1972 from the Army's Primary Helicopter Training School at Fort Rucker, Ala., and in 1978 from the Fixed Wing Conversion Training Class at Sheppard AFB, Texas.
The pilot was posthumously promoted to major three years below the zone effective the date of his death.