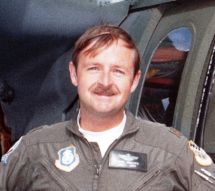 Michael "Mike" R. Phillips, Lt. Colonel, USAF (Retired)
1948 - May 08, 1998

MICHAEL R. PHILLIPS
TABB - Retired U.S. Air Force Pilot Lt. Col. Michael Ray Phillips, 50, and current United Parcel Service Pilot, died Friday, May 8, 1998, of a brain aneurysm. He was a resident of Tabb for the past 10 years. A memorial service will be held in Winston-Salem, N.C., at Burkhead United Methodist Church at 11 a.m. on Thursday, May 14.
He was the loving husband of Rita Yuvonne Warden Phillips, his wife of 28 years; and the father of Jeffrey Michael Phillips of San Diego, Calif., and Paula Marie Phillips of Blacksburg. His parents are Mr. and Mrs. E.H. (Pete) Phillips of Winston-Salem, N.C.; and his brother, Jerry H. Phillips, and his family reside in Idaho Falls, Idaho.
In lieu of flowers, contributions may be made to the U.S. Air Force Widows Fund in care of Mr. E.H. Phillips, Burkhead United Methodist Church, 5250 Silas Creek Parkway, Winston-Salem, N.C. 27106.