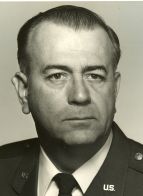 James (Jim) R. Murtha, Colonel, USAF (Retired)
July 01, 1937 - March 01, 2007

Colonel James (Jim) R. Murtha, age 69, U.S. Air Force retired, died March 1, 2007, at his home in Fort Walton Beach, Fla., following a courageous battle with cancer.
Born July 1, 1937, in New York City to the late James E. and Mabel H. (Smith) Murtha, he moved to Bennington, Vt., as a young boy. He graduated from Bennington High School in 1955. A winter laboring on the St. Lawrence Seaway inspired him to return to school and in 1960 he earned an economics degree from St. Michael's College Burlington, Vt., and an officer's commission in the U.S. Air Force. During his 24-year military career, which included Vietnam service, he traveled the world — Europe to Asia to Africa. He was a Command Pilot flying sea planes and helicopters for Air Rescue. He was awarded Vietnam combat decorations and many personal awards. Prior to retirement, he served as Chief, Resource Management Division, Directorate of Maintenance, Robins Air Force Base, Ga. Though proud of his career, he was most proud of the opportunity to work with so many outstanding military professionals.
Jim continued his service in the local community as the sixtheighth grade math and history teacher at Saint Mary's Catholic School. This 12 year period with the children of St. Mary's was some of the most personally rewarding. He made his classes come alive and be pertinent to the children. The memories of his booming voice, larger than life, physical presence, infectious enthusiasm, sense of humor, as well as trips to battlefields, government offices and camping will live on with his students, dedicated teachers and staff, priests and parents at St. Mary's.
Jim, a resident of Fort Walton Beach since 1970, served as former Mayor Pro-tem of Fort Walton Beach and four- year member of the Fort Walton Beach City Council and was an ardent participant in many political and civic venues on numerous issues of local and national interest. He was an active member of St. Mary's Catholic Church, the Knights of Columbus, American Legion, the Daedalians, and the Military Officers' Association.
Jim is survived by his loving wife of 44 years, Mary F. (Blount); and four children, James C. (Ann) of Milwaukee, Michael P. (Julie) of San Antonio, Texas, Christopher J. (Joli) of Atlanta, and Maria K. Murtha-Endris (Greg) of Seattle; his brother, Robert E. Murtha (Nancy) of Glens Falls, N.Y. Survivors also include seven grandchildren; and many, many in-laws, nephews, nieces and dear friends, all of whom provided time, love, support and prayers. He was predeceased by his parents; and his brother, Peter C. of Boston.