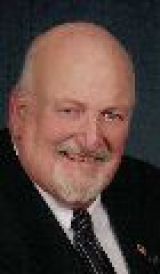 Paul Douglas McComb, Lt. Colonel, USAF (Retired)
September 03, 1938 - May 23, 2011

Paul D. McComb, Lt. Colonel, USAF, Retired. Born September 3, 1938 to Robert Paul and Beatrice Cribbs McComb at Ft. Wayne, Indiana. Passed from this mortal life on May 23, 2011 at Ogden, Utah.
Paul was the essence of human greatness, loved by many, respected by all, and a great example for all he touched during his life here on earth. He was a sensitive and compassionate leader in all of his endeavors. He has passed from this life to another life of reward and comfort with Jesus Christ. He is not gone, however, because his examples and blessings to others will live on through the lives he enriched by his presence here.
The early years of his life were spent in Ft. Wayne, Indiana; Decatur, Indiana; Ft. Sill, Oklahoma and Moultrie, Georgia. He was a star and popular athlete during his high school years, participating in basketball, diving and other sports. He graduated from high school at age 16.
He was accepted into, and graduated at age 20 in 1959 from The Citadel in Charleston, South Carolina. Paul married Carolyn B. Winning in 1959. Together they had three children, Kathleen, Judy and Brian.
Because he was too young to be an officer in the United States Air Force upon graduation from The Citadel, he taught high school in Jacksonville, Florida for one year. He taught mathematics and was adviser for the trampoline, chess and golf club.
His Air Force career began in 1960, with pilot training in Marianna, Florida, Lubbock, Texas and Reno, Nevada. He was stationed in Langley AFB, VA.; Thailand; McDill AFB, FL. where he survived a helicopter crash in Tampa Bay; Wheelus AFB, Libya; Ton Son Nhut AFB, Vietnam; Sheppard AFB, TX.; Hill AFB, UT.; and Kirkland AFB, NM.
For his outstanding service he was awarded: Air Medal; Meritorious Service Medal; Republic of Vietnam Gallantry Cross (with One Device); Republic of Vietnam Campaign Medal; National Defense Service Medal; Vietnam Service Medal; Air Force Commendation Medal.
Paul retired as a Lt. Colonel in 1980 after an outstanding career in the United States Air Force. He returned with his family to live in Ogden. Paul attended Weber State University to study computer science. He established and ran a gourmet food service which he named "Catering by Paul". His hobby was woodworking, and he had an enviously equipped wood shop in his home.
He really loved people. He was gregarious beyond interpretation, sharing his ideas and knowledge with anyone who requested it. Paul developed and expertise in everything he accomplished. He made friends with people in all walks of life, and from all over the world. His generosity was overwhelming, inviting numerous less fortunate individuals to reside with his family until they were able to sustain themselves. He provided work experiences around his life, learning from and truly appreciating the good in all the people he helped.
He had many experiences including life guarding, competition diving, tennis, snow skiing, ski patrolling and sailing. He was and avid reader and discussion master in many aspects of life.
Paul is survived by his wife of 52 years, Carolyn, daughters Kathleen Cummings (Timothy Christopher); Judy McComb, son Brian McComb (Lanette Horand), grandchildren Sean Cummings, Ethan Cummings, Anthony Cummings, Dacia Brockman, Erin McComb, Kenneth McComb, Jack McComb, step grandson Ben Horand, and a special cousin Tom McComb. Paul was preceded in death by his parents and his brother Randall.
The world and its inhabitants from many cultures and conditions is an improved place due to the influence of Paul D. McComb. His tirelessness, generosity and other outstanding qualities have added significantly to all of us. Paul, even though you have passed, you are still very much among us!
A memorial service will be conducted at First Presbyterian Church at 28th and Quincy, Ogden, UT. at 2 pm, on June 2, 2011. A Military Tribute to Paul's life will be performed. The family wishes to express their appreciation to those may friends who care. The suggest donations be made to Wounded Warriors, PO Box 758517, Topeka, KS. 66675, or your choice of charity.