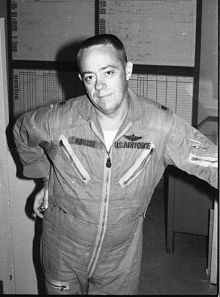 Edward "Buck" Monroe (RIP), 20th SOS at Operations Office, Nha Trang AB, RVN
"Choir Practice," a near-nightly event in the officers' quarters (Meat Locker) at Tuy Hoa, happening shortly after the O-Club across the street closed for the night. There was no sense going to bed before they got back, because you'd definitely be waked up when they arrived. It was more fun to just step out into the hall and join the singing, --or take pictures. Typical combat situation: work hard, play hard.
Buck Monroe (RIP) on left.