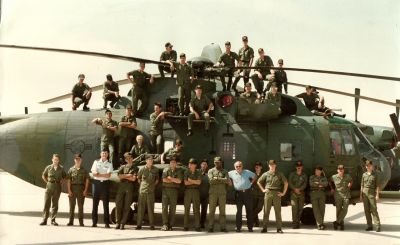 H-3 at Kirtland AFB, NM. 1984, Maintenance
crew including the phase dock troops.
Pictured from left to right.
Ground: Ground: P.Kaski, S.Birkner, R.Holstein, T.Joslyn, B.Dunaway, unknown, S.Ray, Marty, S.Hassan, F.Loshke, K. Dolbee,unknown, Smokey Wayman, M.Bowers, Ed Day, D.Burnett,
Sponson: Frenchy Bettevy, unknown, M.May, Joy Vick, B.Ulmer,
Lower engine cowl: George Harps, Lee Derrick,
MGB platform: Unknown, Ken Green (sitting),
FOD Shield fwd: Mark Cooper, unknown,
Engine cowling: K.Hennesey, unk, W.Marshall, Kip Long,
Tail section: Sean Lawler, unknown, Kent Vickery,
Doghouse cowling: J.Goings
If anyone can help identify the 'unknowns' in the photo please let the webmaster know.