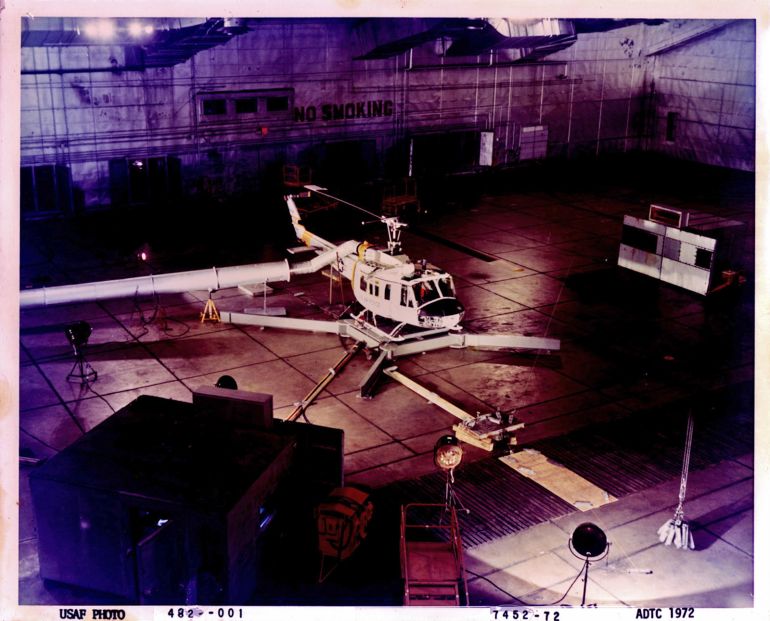 We did extensive testing of the hoist in extreme cold conditions. See the lead weights lower right. We uncovered some wire insulation that crumbled in the 58 below zero temperature. We ran the helicopter many hours in this hangar. I was not absolutely sure I should trust this setup, and I was apprehensive about this tie down technique during the first few runs. It worked flawlessly, and they were some very seasoned professionals at the Climatic Lab Hangar. They reminded me of the people that work at the Jack Daniels Distillery. Very nice and thoughtfully deliberate about all the work they did.
It was quite a project. The cable ran under the wood housing, and back up at the end of the boards housing the cable. There was a limit switch there to prevent the lead weights from hitting the pulley at the roof. I drew up the wiring diagram for this circuit, I remember.
The hoist was tested using Mobile ATF 220 oil, and thus, the only approved oil for the HH-1H hoist. This is one of the better hoists that I have operated. It worked flawlessly, and lifted the lead weights many times for this testing.
Major Gregory Etzel was the pilot, and I was MSgt at this time. Major Etzel and I were the only ones out while operating the helicopter in the hangar most of the time. The others were in the metal building in the foreground, with substantial protection.