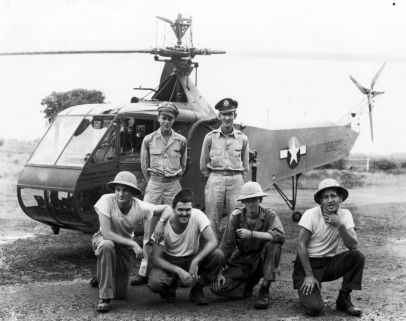 Carter Harmon (standing, on the left) who performed the first helicopter evacuation in a combat zone on April 25, 1944, in the highlands of Northern Burma, poses with ground crew in front of the R-4 helicopter.
---
FIRST AAF HELICOPTER RESCUE
---
The first recorded use of a helicopter as rescue aircraft by the U.S. Military took place in the China-Burma-India Theater of World War II. A Sikorsky-built R-4 helicopter was used in April 1944 in a dramatic rescue of a downed pilot and three wounded soldiers in the jungles of Burma. The fledgling aircraft was underpowered, which was only made worse by the heat and humidity of the jungle.
Lt. Carter Harmon made the first AAF helicopter rescue, in Burma behind Japanese lines on April 25-26, 1944. First Air Commando sergeant pilot Ed "Murphy" Hladovcak had crash landed his L-1 light plane with three wounded British solders on board. Taxing his YR-4 43-28223 helicopter to its performance limits, Harmon made four flights to the site, making the final hasty liftoff just as shouting soldiers burst from the jungle. He learned later the soldiers were not Japanese, but an Allied land rescue party.