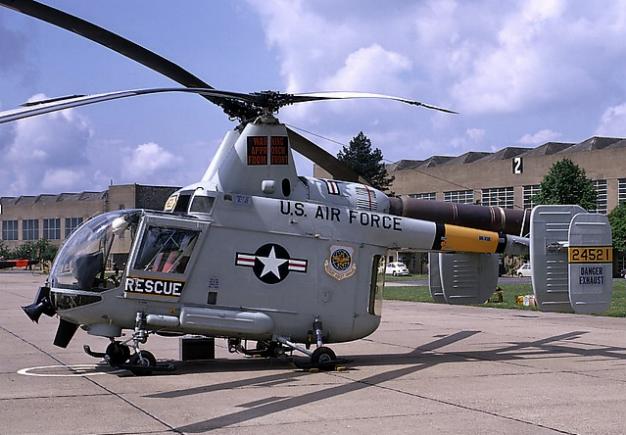 (PHOTO COURTESY OF SID NANSON)
(The picture was taken at RAF West Raynham, UK on 17 June 1971
It is 62-1524 in the HH-43F configuration.
Unit DET.12 40TH ARRW, based at RAF Woodbridge.)
(PICTURE INFORMATION COURTESY OF JOHAN RAGAY)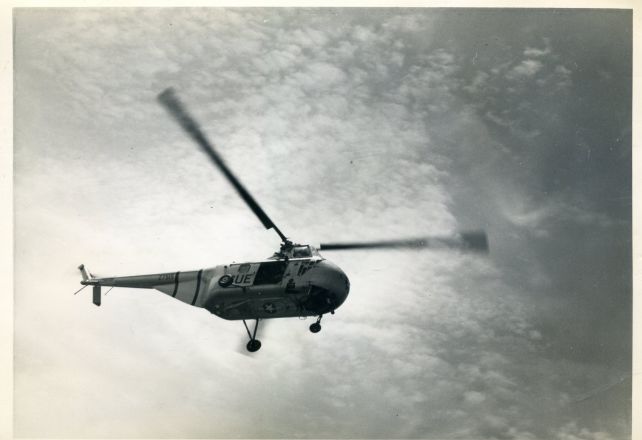 52-7519
Credit is Frederick G. Freeman
(COURTESY OF SID NANSON)

CLICK ON SMALL BLOCK TO PAUSE

Sid has researched the histories of each of the 1,281 Sikorsky H-19's ever built for many years. I have traveled the States extensively, at the last count, I have been over the pond 26 times and seen a good many Sikorsky helicopters as well! Sid Nanson

Taken from an article by Robert F Dorr.
The H-19's best known achievement occurred in July 1952 when a relatively junior officer, Captain Vincent McGovern, orchestrated and conducted a remarkable trans Atlantic crossing to demonstrate America's capability to reinforce its commitment to the defence of NATO. Chosen for the mission were two new H-19A's (51-3890 which left the factory 24th June 1952 and 51-3893 which left the factory 3rd July 1952.) which were earmarked for the 9th Air Rescue Squadron based at Wiesbaden, Germany. McGovern had the helicopters stripped of pontoons, rescue hoists, soundproofing and cabin heaters(the crew having to resort to wearing rubber exposure suits). With increased internal fuel, Hop-a-Long and Whirl-O-Way, flew from the Sikorsky factory to Westover AFB, MA. Taking off from there on July 15th, they embarked on a flight which took them to Presque Isle,Maine; Goose Bay, Labrador; Narsarssuak, Greenland; Keflavik, Iceland; Prestwick, Scotland; The Hague, Holland; and finally Wiesbaden. The 3,984 statute mile trip took them 20 days, with a flight time totalling 51 hours 55 minutes.

51-3890 was donated to the State of Nebraska on the 4th of February 1960. It was given a civilian registration, N109DA, although I do not know if it flew at all when it was with the Nebraska Adjutant General's office. It is possible that this historic helicopter ended up with the West Nebraska Technical College.
51-3893 went into DM on the 25th of October 1960 and departed there on the 15th of September 1961. It was Stuck off Charge from the USAF on the 24th of August 1962 as a "MAP" aircraft, recipient country unknown to me.

Sid Nanson is without a doubt the most knowledgeable person when it comes to the H-19. If you have any questions about the H-19 email us at rotorheadsrus@yahoo.com and we will forward to Sid or email him directly if you have his email.